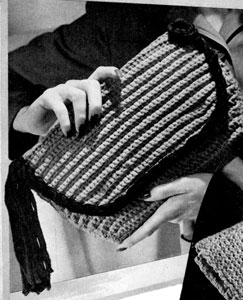 Materials Required - AMERICAN THREAD COMPANY "GEM" COTTON YARN.
3 Skeins Red. 1 Skein Black. 2 Snaps.
Bone Crochet Hook Number 4 or 5.
First Section. With Red, ch 35 and work 34 s c on ch, ch 1, turn.
2nd Row. Increase 1 st both ends and work 1 row even. Repeat the last 2 rows 4 times. Then work 15 rows even, break yarn.
Repeat the first section, then work 15 more rows even. Next 8 rows decrease 1 st at both ends, break yarn.
Crochet a row of s c around both sides of first section, then crochet a row around 26 rows of both sides of the other section. Sew bag together.
Cord Trim. With Black, measure 6 strands about 3 yards long. Twist tightly, fold in half and allow it to twist itself holding the 2 ends. Knot one end and sew to bag as illustrated. Double the remainder, and then wind off 6 strands of 24 inches and knot over cord to form tassel. Cut loops at bottom of tassel. Line if desired and sew snaps at each end.
other patterns in leaflet: