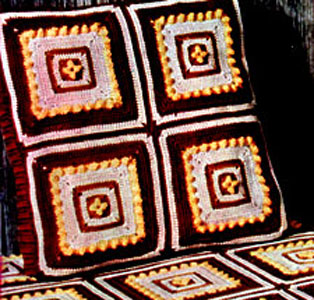 Materials Required: AMERICAN THREAD COMPANY "STAR" FAST HEAVY CROCHET MERCERIZED COTTON, Article 140
4 balls Chocolate.
3 balls Ecru.
1 ball Toltec Yellow.
2 balls Cinnamon or colors of your choice.
Steel crochet hook No. 1.
Kapok or shredded foam rubber for filling.

Work 8 motifs same as bedspread directions.
Join 4 motifs for front and back as illustrated.
GUSSET: With Chocolate ch 16, 1 d c in 4th st from hook, 1 d c in each remaining st of ch, ch 3 to turn all rows.
2nd Row. 1 d c in each d c.
Repeat last row until strip is long enough to go around either section, cut thread leaving a length for sewing.
Sew short ends together.
Sewing through back loop of sts, sew 4 sides of one section to gusset. Sew 3 sides of other section to gusset in same man­ner. Sew zipper along free edge if desired. Fill with kapok or shredded foam rubber and sew opening closed.
Other great patterns from Crocheted Fashions, Book No. 116.
Crochet Patterns
Hat & Bag I
Crocheted Knitting Bag
Modern Block Crocheted Bedspread
Modern Block Crocheted Pillow
Motif Luncheon Set
Border Place Mats
Hat & Bag II
Crocheted Gloves
Horn of Plenty
Bridge Cloth with Napkins
Traditional Potholder & Hot Plate Mat
Modern Potholder & Hot Plate Mats