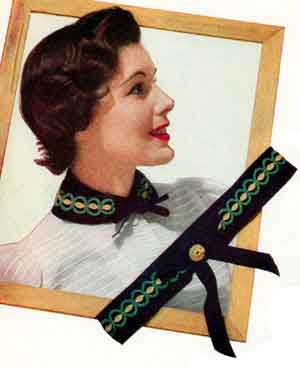 This belt and collar can be made with:
The Famous "PURITAN" CROCHET COTTON, Article 40.
or
"DE LUXE" Quality CROCHET COTTON, Article 346.
1 ball each Yellow and Nile Green or Lt. Green and
1 spool "STAR" Mercerized Sewing Thread, Article 400 to match.
Steel crochet hook No. 8 or No. 9
28 inch length of 2 inch Black velvet ribbon or slightly longer thanwaist length.
¾ yd. 1 inch Black velvet ribbon for bow.
Black velvet collar.
COLLAR
Work 1st 3 rows same as for belt but having 19 cluster sts in 1st row or long enough to fit collar. Sew in position on collar as illustrated.
Other great patterns from Hats, Bags and Bulky Sweaters, Star Book 107:
Crochet Patterns
Princess Hat
Princess Tote Bag
Pixie Roll Hat
Pixie Roll Purse
Crocheted Slipon
Bat Wing Boxy Sweater
Pixie Fringe Hat
Pixie Fringe Purse
Loop Stitch Beanie
Loop Stitch Purse
Flower Petal Hat
Flower Petal Purse
Pearl Belt
Pearl Gloves
Beaded Collar
Black Velvet Belt
Black Velvet Collar
Ribbon Cloche
Pill Box Hat
Ribbon Purse
Shaker Bonnet
Black & White Striped Hat
Black & White Striped Purse
Popcorn Classic Hat
Popcorn Classic Purse
Crocheted Stocking Cap
Beaded Cloche
Beaded Tote Bag
Fez Hat
Fez Purse
Square Bag Purse
Knitting Patterns