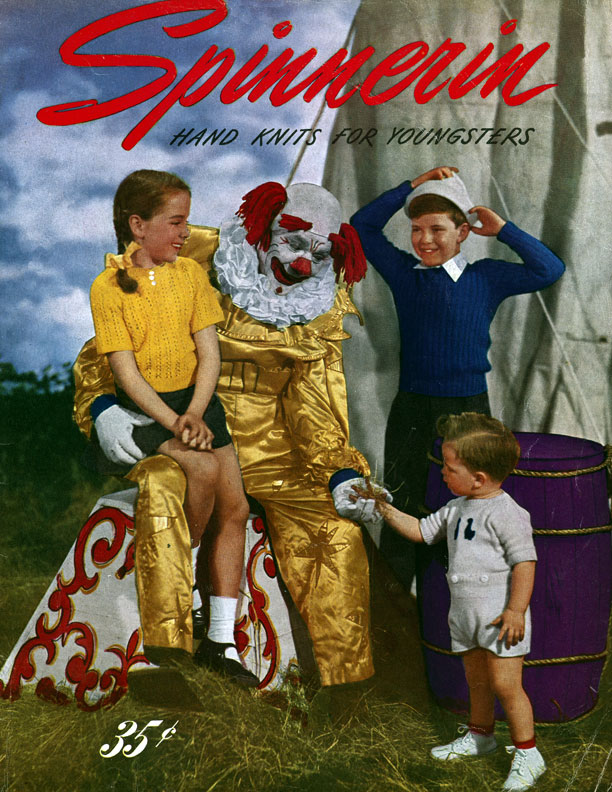 Hand Knits for Youngsters
Spinnerin Yarn Co.
Original Copyright 1944
Patterns Included:
Sandpiper & Mermaid Bathing Suit, Bye Bye Baby Set, Bunting, Afghan, Baby Mitts No. 2150, Baby Mitts No. 2098, Soaker No. 2175, Romper No. 2088, Romper No. 2135, Soaker No. 2176, Baby Sacque, Helmet, Minx Sweater Set, Runabout Sweater Set, Bairn Outfit, Little Girl Blue Dress, Little Boy Blue Outfit, Laddie Outfit, Lassie Outfit, Little Love Sweater & Beanie, Snow Fairy Outfit, Snow Pal Outfit, Marjorie Daw Outfit, Little Miss Muffet Sweater, Colleen V-Neck Pullover, Rascal Round Neck Pullover, Once Upon a Time Outfit, Hopscotch Sweater, Smarty & Sassy Sweater, Class President Sweater Set, Man About Town Sweater, Ice Nymph Sweater Set, Bobby Socks, Knee Socks, Girl's Mittens, Surplice Sweater, Blessed Event Baby Set, Baby Mine Baby Set, Baby Festival Baby Set, Bonnet, Mittens.
Spinnerin unravels your knit knots
DYE LOT: Your initial purchase should consist of sufficient yarn, bearing the same dye lot number, for the completion of your garment. The next dye lot of this yarn may differ slightly in shade, for it is not always possible, technically, to match perfectly any two dye lots.
GAUGE: The gauge is the most important piece of information given in any set of instruc­tions. Knit, block and measure a sample swatch before beginning work. If you cannot obtain the given gauge with the needles suggested, try needles one or two sizes smaller or larger until your gauge is exactly as specified. The needles recommended are based on the work of the average knitter but because some knitters knit tightly and others loosely, it is necessary that a test swatch be made.
WEAVING: Thread yarn into blunt end needle, and proceed in following manner: working from right to left, * pass threaded needle through first st. on front needle as if to K, and sl st. off needle, pass through second st. on front needle as if to P, but leave st. on needle: pass through first st. on back needle as if to P, and sl st. off needle, pass through second st. on back needle as if to K, but leave st. on needle. Repeat from * until all sts. are woven together. Fasten yarn at side.
FINISHING AND BLOCKING: For best results and easier joining, block each piece sepa­rately as follows: using rust-proof pins, pin each piece to flat surface, with wrong side up, cover with damp cloth and steam—Do Not Press—the weight of the iron should never be permitted to rest on the garment. Block finished garments in a similar manner, being sure to retain original measurements ... In sewing together, have all edges meet evenly, matching rows wherever possible—all seams must be flat and as in­conspicuous as possible ... For better fit and longer wear, reinforce shoulder and neck seams with ribbon or seam binding ... Face all single edges on which fastenings are to be placed with ribbon or seam bind­ing ... In sewing together garments made of nubby yarn, use matching silk or mercerized thread ... In sewing on a collar, start at the center of collar and garment and sew to each end.
WASHING: Before washing make an outline of garment on heavy paper, or take complete measurements ... Water should be lukewarm—never hot ... Soap should be mild ... Force suds through garment gently—never rub or twist the garment or permit its weight to pull it out of shape ... Rinse in water of same temperature as that used in washing ... Roll garment in turkish towels to remove excess moisture—do not wring or twist ... Place on flat, absorbent surface and shape to original measurements ... When gar­ment has reached the almost-dry stage, block as prescribed above.
ABBREVIATIONS
| | |
| --- | --- |
| Knit | K |
| Purl | P |
| Stitch | St. |
| Stitches | Sts. |
| Yarn Over | Y.O. |
| Slip | Sl. |
| Pass Slipped Stitch Over | P.S.S.O. |
| Chain | Ch. |
| Single Crochet | S.C. |
| Double Crochet | D.C. |
| Half Double Crochet | H.D.C. |
| Treble Crochet | Tr.C. |
| Space | Sp. |
| Decrease | Dec. |
| Increase | Inc. |
| Inch | In. |
| Inches | Ins. |
| Together | Tog. |
| To work without increasing or decreasing | Work Even |
Because your work deserves the Best
Don't, please don't, cast on one single solitary stitch—until you're sure of your yarn. Until you're positive that you'll be well repaid for all the time and love that will go into that sweater, or that dress, or that pair of booties for Sally's baby. You can be sure—if you choose Spinnerin Yarns. Because Spinnerin Yarns have been cast on knitting needles for three generations now ... yes, three generations of women have been knitting and purling with Spinnerin and loving it. All these long years are behind Spinnerin craftsmanship. That's why you can be sure that all your good work will be worth while—that the garments you knit will last, will hold up under the punishment of wear and washing and cleaning. Choose Spinnerin for quality, for beauty, "because your work deserves the best."