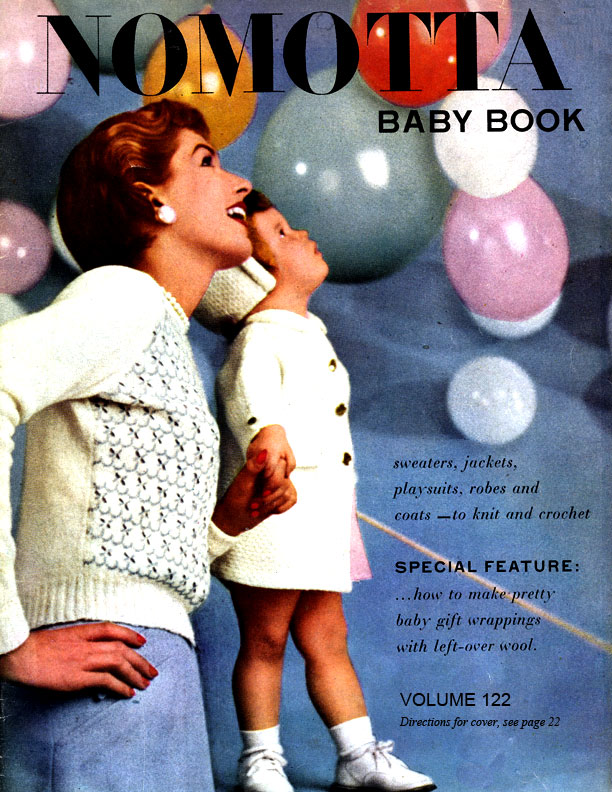 Nomotta Baby Book
Volume 122
Amicale Yarns, Inc
Original Copyright 1954
Patterns Included:
Baby Set in Quaker Stitch, Baby Sacque and Shoes, Two Color Baby Jacket and Bonnet, Raglan Shirt for Baby, Surplice Sweater, Lap Over Shirt and Soakers, Romper for Baby, Playsuit with Jacket, Cardigan with Borders, Cardigan with Tulips, Twin Sweater Set, Slip On with Ribbed Yoke, Lace Trimmed Cardigan, Crocheted, Jacket and Cap, Crocheted Nightie, Crocheted Bunting, Coat and Bonnet, Knitted Tweed Coat and Cap, Blazer for Girl or Boy, Striped Blazer, Helmet with Mittens, Beret, Jacket with Hood, Two Piece Snow Suit with Cap and Mittens, Crocheted Carriage Robe, Knitted Carriage Robe.
GAUGE
It is extremely important for a good fit to have the same gauge in your knitting as the one given in the directions. Before start­ing a garment, knit a small sample and count the stitches to the inch. If you find that you knit loosely and that there are less stitches to the inch than are called for in the directions, use the next smaller size needles. Or if you knit tightly and there are more stitches to the inch, use the next larger size needles. If you wish to use a yarn other than the one specified be sure to check with chart of interchangeable yarns.
BLOCKING AND FINISHING
Blocking: Run in all ends carefully on wrong side. Place pieces to be blocked on a well padded board wrong side up. With a steam-iron or a damp cloth and a medium heated iron press gently carrying most of the weight of the iron in your hand. The Quaker stitch and any fancy rib pattern used in this book need not be pressed at all, only steamed lightly in order not to be flattened. The same treatment should be given to ribbing for borders on sweaters.
Finishing: After blocking each piece as described above, pin seams together carefully matching any patterns.
Baby Garments: For a soft seam, so important in a baby gar­ment, use a blind-stitch as follows: Hold pieces to be joined right side up. With a darning needle and yarn weave from edge to edge going into the tight stitch (every other row) being careful to match rows or patterns.
2-4 Year Sizes: For cardigans, jackets and slip-ons for older children use a running back-stitch except for the ribbing which should be sewn with an over-cast stitch. Place right sides together and with darning needle and yarn back-stitch on wrong side close to the edge. For ribbing, sew over and over on wrong side being careful not to stretch edge.
CHILDREN'S MEASUREMENTS
Our directions are based on these measurements. Allowance has been made for style, pattern stitch or type of yarn.
| | | | | |
| --- | --- | --- | --- | --- |
| Age | Chest | Length to Underarm | Armhole | Sleeve Length to Underarm |
| 6-month | 19 ins | 6 ins | 3½ ins | 5½ ins |
| 9-month | 19½ ins | 6½ ins | 3¾ ins | 6 ins |
| 1 year | 21 ins | 7 ins | 4 ins | 7 ins |
| 2 year | 22 ins | 7½ ins | 4½ ins | 8 ins |
| 3 year | 23 ins | 8 ins | 4¾ ins | 9 ins |
| 4 year | 24 ins | 8½ ins | 5 ins | 10 ins |
| 5 year | 25 ins | 9 ins | 5¼ ins | 11 ins |
| 6 year | 26 ins | 9½ ins | 5½ ins | 12 ins |
| 7 year | 27 ins | 10 ins | 5¾ ins | 12½ ins |
| 8 year | 28 ins | 10½ ins | 6 ins | 13 ins |
ABBREVIATIONS
| | |
| --- | --- |
| Knit | K |
| Purl | P |
| stitch(es) | st(s) |
| chain | ch |
| Sl st | slip stitch |
| single crochet | sc |
| double crochet | dc |
| half double crochet | h dc |
| inch(es) | in(s) |
| yarn over | YO |
| pass the slip-stitch over the stitch(es) directly after the slip-stitch | PSSO |
KITCHENER OR WEAVING STITCH
To join knitting, hold needles with the sts parallel. Thread a tapestry needle with the strand left on the knitting. With the strand of yarn from the back needle, start on the front needle as follows:
* Insert tapestry needle in first stitch on front needle as if to knit, and drop loop from front needle, insert needle into 2nd stitch of front needle as if to purl, draw yarn through but allow loop to remain on front needle. Insert needle into first stitch on back needle as if to purl and drop loop from back needle, draw needle through 2nd stitch of back needle as if to knit leaving loop on back needle. Repeat from * until all stitches are joined. Do not draw yarn tightly but try to achieve the same tension as the knitting. Fasten the end securely on the wrong side.
WASHING INSTRUCTIONS
Heat in any form is harmful to woolens. It is most important never to boil or wash them in hot water. Use lukewarm water and make a rich suds with a mild soap or detergent … then gently squeeze the suds through the fabric but do not rub. Because the weight of the water will stretch it, always support the garment with your hand when lifting it from the water. Rinse thoroughly in clear lukewarm water three times (never allow a garment to soak).
Squeeze out as much water as possible without twisting or wringing. Then roll it in a dry turkish towel to absorb the excess moisture. Now place the garment on another dry towel and shape it according to measurements. Allow it to dry thor­oughly. Never hang or dry it in the sun or on a radiator.
DUPLICATE STITCH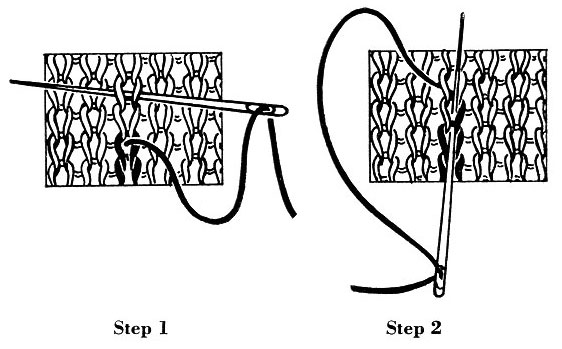 This stitch is used to embroider a pattern to make it look as if it were knitted.